Studio Porpoise
In the Dutch part of the North Sea the number of porpoises increases. Also in the Eastern Scheldt, where 30-40 of these cetaceans stay permanently.
The Rugvin foundation performed many studies to porpoises in the Eastern Scheldt over the past years (since 2009). Due to this it is known that nearby the jetty of Zierikzee porpoises are often spotted. This porpoise hotspot even is one of the best and easy accessible places to spot porpoise in the Netherlands/Europe!
The access to this jetty has improved over the last years due to the creation of cycling and walking paths, and there are even benches placed to have a seat! It is the ideal spot to watch "our whale"!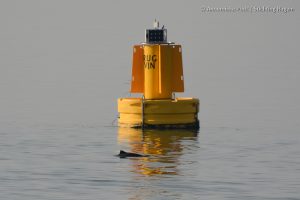 Studio Porpoise allows visitors to listen to life recording sounds of porpoises swimming nearby, from a distance of several hundred meters. This means you can watch and listen to the animals that project their sounds (echolocation/sonar) to find their way, catch preys and communication.
The Rugvin foundation realised Studio Porpoise together with her partners the World Wide Fund for Nature, National Park Eastern Scheldt , Natuurmonumenten, and the Municipality of Schouwen-Duiveland. In October 2016 Studio Porpoise was put into use.
Click here for a preview of a hunting porpoise and here for an echolocating porpoise.
Please come and visit and listen to the porposies at the jetty of Zierikzee.
And please do read the International Whaling Commision (IWC) case study on Studio Porpoise.